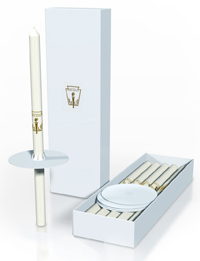 NHS Candles & Wax Protector Box Set - 7410048
Perfect for bringing that special touch to your induction ceremonies, this box set includes 12 candles with gold embossed NHS logo and 12 cardboard wax protectors. These dripless candles are 12" long, with an approximate burning time of 2" per hour.
Candle Safety: Please do not leave burning candles unattended. The NHS logo on the candles is a sticker; do not let the flame come in contact with the sticker. If you wish to burn the candles below the logo area, extinguish the flame and remove the sticker. For longest burning time and to keep the candle from smoking, keep the wick trimmed. Do not burn the candles outside or in a drafty location. Doing so will cause the candles to burn faster and drip.
*Please Note: These are not replacement candles for the NHS Induction Ceremony Candle Holder (Item #7155000). For replacement candles, please see Item# 7155667.