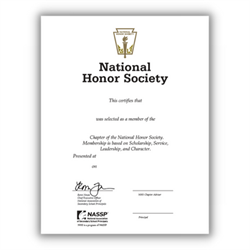 NHS Membership Certificates (Contemporary)
These attractive foil-stamped certificates are printed on heavy weight, brilliant white paper and provide space for member's name, chapter name, date, and adviser and principal signatures. 8½" x 11". Sold in packages of 25.

TEMPLATE: The template for printing your purchased pack of certificates can be downloaded at http://www.nhs.us/certificate.
Contemporary certificates are printed in SerifaLT font.
Due to variations with printers we cannot guarantee the template will work with every printer. If you cannot get the template to work we are sorry but we cannot provide technical assistance.

Manual-feed your certificate through your printer. We suggest copying the certificate to make practice duplicates for checking your manual feed orientation and inscription position relative to the data fields on the template.
Suggestion: For printing multiple certificates where the names change but all other copy remains the same, print the certificate and replace the first name with the next name on the list. Print the second certificate and repeat the process with the remaining names on your list.
#7410518